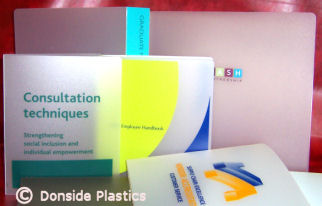 PLEASE ADD THESE PRICES TO THE COST OF THE STOCK POLYPROPYLENE BINDER OF YOUR CHOICE.
Please note that list prices of binders (from this site) must be used, not any online or offer prices that may be available from time to time.

Prices stated are for separate printed spot colours. This is not 4 colour process. If you require 4 colour process (litho or screen print) we will quote you. Litho printing is not usually viable under 1,000 off.

All prices are subject to sight of artwork and are based on approx. 90% coverage. Solids over the majority of the complete binder may attract surcharges.
NOTE. BINDER PRINTING PRICES ARE NETT AS PER THIS LIST, THEY DO NOT ATTRACT FURTHER DISCOUNTS AS PART OF AN ORDER COMBINED WITH ANY OTHER PRODUCTS FROM THIS LIST. PRICES ARE FOR BINDERS OF THE SAME SIZE WITH THE SAME PRINTED IMAGE.

ALL THE PRICES IN THIS BINDER PRINTING SECTION ARE AN ADDITIONAL CHARGE TO BE ADDED TO THE COST OF THE STOCK POLYPROPYLENE BINDER OF YOUR CHOICE.

PRINTING PRICES DO NOT COUNT TOWARDS OUR £150.00 CARRIAGE PAID ORDER. IF THE BASIC ORDER BEFORE PRINTING DOES NOT REACH £150.00 (before VAT), THEN THE UNDER £150.00 RATE AND THE £10.00 CHARGE STILL APPLIES.
Extra To Screen Print Our A6 or A7 Portrait Stock Frosted Polypropylene Ring Binders
These prices cover a print area of up to about 90% on A6 or A7 portrait binders.
Prices are per binder, in addition to the binder price, plus VAT.
See notes above. Subject to sight of artwork.

Quantity

Cost of printing, per
binder, for 1st colour.
No bleed off *.

Extra if any colour bleeds off *.

Cost of printing, per binder,
for each additional colour.

25

£4.68

£1.20

£3.48

50

£2.34

60p

£1.74

75

£1.58

40p

£1.18

100

£1.17

30p

87p

125

£1.04

24p

80p

150

97p

20p

77p

175

90p

18p

72p

200

65p

15p

50p

250

59p

12p

47p

300

55p

10p

45p

350

52p

8p

44p

400

50p

6p

43p

450

48p

4p

42p

500

38p

Nil

32p

750

31p

Nil

27p

1,000

27p

Nil

24p

Over 1,000, please ask for a quotation.
* NO BLEED OFF. This means that these prices only apply if the print is at least 2mm. from the edges of the binder or the spine creases. If the print bleeds off the edges or crosses the spine creases then the 'Extra if any colour bleeds off' column applies. This charge applies once per binder, not per colour.
Binder sizes to help you prepare artwork etc.

A6 PORTRAIT BINDERS

Order Ref.

Mechanism Type & Size
(not the spine size)

Material Thickness (microns)

Total Flat Size
Height x Width

Spine Width

Front/Rear Cover Width

A6FP2R16/8

2 round rings 16mm

750

168 x 281mm

21mm

130mm

A6FP2D15/8

2 D rings 15mm

750

168 x 300mm

28mm

136mm

A6FP2R20/8

2 round rings 20mm

750

168 x 300mm

28mm

136mm

A6XFP2D15/8

2 D rings 15mm

750

168 x 320mm

28mm

146mm

A6FP2D25/8

2 D rings 25mm

750

168 x 322mm

40mm

141mm

A6FP4D25/8

4 D rings 25mm

750

168 x 322mm

40mm

141mm

A7 PORTRAIT BINDERS

Order Ref.

Mechanism Type & Size
(not the spine size)

Material Thickness (microns)

Total Flat Size
Height x Width

Spine Width

Front/Rear Cover Width

A7FP2D10/8

2 D rings 10mm

750

130 x 244mm

24mm

110mm

A7FP2R16/8

2 round rings 16mm

750

130 x 244mm

24mm

110mm