Please note that our Tag Pockets have an additional thickness of PVC along the punched margin (for extra strength), not just a single thickness like some we have seen.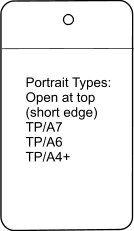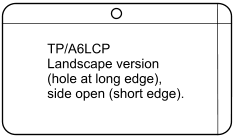 Tag Pockets
Also known as point of sale or POS, hanging vinyl tag protectors, sometimes as swing ticket or furniture pockets/labels.

Clear PVC pockets for shop display or stores use. Available from stock to take 315x210mm (a little taller than A4), A6 (148x105mm) or A7 (105x74mm) cards (not supplied). Hole at top for you to attach/string.

Standard pockets have a push-out hole approx. 6mm diameter. Small hole version also stocked in A6 and A7 sizes, for use with Kimble tags etc.

Landscape version to take A6 card. Hole at top (long edge) in margin, open at right hand side.

Organised camping parties (scouts, schools etc.) have found the A6 and A7 sizes very useful for attaching emergency ID or insurance details to youngsters in their care.
Order Ref.

For paper size

TP/A7

A7 Portrait
(105x74mm)
Standard hole

SHTP/A7

A7 Portrait
(105x74mm)
Small hole version

TP/A6

A6 Portrait
(148x105mm)
Standard hole

SHTP/A6

A6 Portrait
(148x105mm)
Small hole version

TP/A6LCP

A6 Landscape
(105x148mm)
Standard hole

All the above now available from Plasart Ltd., the link will take you their Tag Pocket page..